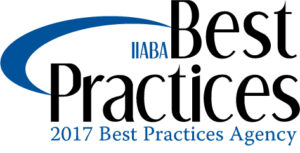 Gunn-Mowery, LLC is pleased to announce that we have retained our Best Practices Agency status for 2017. This is the 8th year we have received the Best Practices award.
We qualified by ranking among the top performers in the annual Best Practices Study conducted by the Independent Insurance Agents & Brokers of America (IIABA).
The purpose of the Best Practices Study is to compile the operating statistics of the country's leading agents and brokers. We submitted detailed financial and operational information which was analyzed, scored and ranked objectively for inclusion in the study, based on operational excellence—including growth, profitability, productivity and financial stability.
Participation in the Best Practices Study has become a prestigious recognition, as more than 1,500 agencies were nominated and only 262 qualified for the study group.