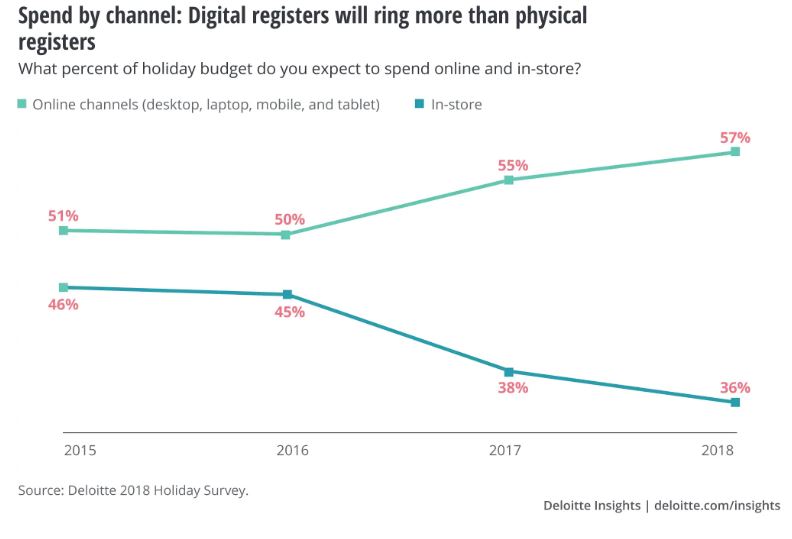 According to Deloitte's Annual Holiday Consumer Survey, online spending continues to grow and is expected to account for 57 percent of all purchases in 2018. Desktops and laptops will represent a third of total spending (34 percent), a slight decrease from 36 percent in 2017. The growth in online spending this year is expected to be driven by mobile and tablets (15 percent and 7 percent of total spend, respectively), up a combined 5 percentage points since 2017.
Given that a staggering 42 percent of this year's shoppers have experienced data breaches and also in the light of the publicity around breaches, it is no surprise that almost half (45 percent) the shoppers are concerned about data breaches. What can you do to make sure you are safe online while Holiday shopping this year? Our IT Manager, Anthony Phillips, came up with 10 tips that you should follow:
10 Tips to Safe Online Shopping
1. Today, phishing scams are skyrocketing, especially driven by deals and rebate offers. Don't open any attachments or click on links appearing to be from trusted vendors you shop with. Go directly to the website of the vendor looking for the sales and deals.
2. Do not use ATM/debit cards online, only use credit cards and think about a voluntary limit, or at least a text when a purchase gets made.
3. Delivery- and non-delivery scams. Watch out for emails that confirm shipments or that try to scan you with shipment problems. TIP: Look at the email address that sent you the email. A real email would be from "Amazon.com", a scam email would come from "Amazondeals.com".
4. Don't fall for deals that are too good to be true on Black Friday weekend and Cyber Monday. Increase your security awareness levels, and maintain a healthy skepticism when you see special offers in email or social media.
5. Watch out for fake discount coupons, that are nothing but a nonsense string of letters and numbers.
6. Keep an eye out for online credit card collection imposters. Scammers know that people are stressing out this time of year due to higher than normal credit card bills. They will call claiming that your account is overdue and is subject to being shut down unless you make a payment immediately. You may be tricked in giving away your credit card information.
7. Holiday Ransomware: You should understand that information—e.g. order confirmation emails— on your computers increase in value over the holiday season, and that means that you are more likely panic and pay ransom if ransomware strikes.
8. Be very wary when you get an inbound phone call, never give out any personal information if you did not initiate the call yourself.
9. Avoid downloading anything from questionable websites. Disable popups on your devices by using trusted, reliable popup blockers.
10. If you suspect that you may have entered your credit card data into a fake website after all, immediately call your credit card company and cancel your card. Then change your passwords and pin-codes for your online banking sites. Use strong passwords and never use the same password for several websites or services, because if one is stolen, all of your accounts will be put at risk. To create strong passwords without having to remember them, use a password manager.
Happy SAFE shopping!!!