Weather is unpredictable, and in some areas, there is always a risk of flooding. Even places that aren't prone to floods can be at risk. Flooding can cause businesses to lose thousands of dollars and can occur when you least expect it. 
Not only can floods directly damage your business' physical location, but they can also cause loss of business and damage your business's reputation. Supply chain and transport disruptions, lost inventory, power outages and enforced evacuations can also hurt your company. Fortunately, you can protect your small business by purchasing flood insurance.  
How to Protect Your Business From a Flood With a Risk Assessment
To protect your small business from a flood, start with a thorough risk assessment. A risk assessment helps you develop a response strategy before a flood. Plan for the worst to ensure you have enough insurance for your business to recover after a natural disaster.
During your risk assessment, consider what machinery and materials may be susceptible to flood damage. Determine the impact on your business if employees can't get to the office, along with the effect of water damage on stock, warehouses and vital equipment.  Find the emergency response plans for your locations and make sure these plans are up to date.
To create an effective emergency plan for your business, follow these steps:
Identify the threats or risks to your business.
Identify your business' critical processes and functions and the resources needed to support them. These may include distributing your product or service, running essential equipment and answering the phones.
Train your employees to prepare for their roles in executing your business' emergency plan.
Adopt controls to reduce a flood's impact and severity. You may choose to keep copies of digital and paper files at an off-site location or store critical equipment on the second floor.
Routinely test and improve your business' emergency plan.
When you can identify the most crucial processes and tools for your company and the staff and systems you need to keep your business running, you can plan how you will protect your assets. To prepare for how you would respond to a flood, figure out how you would file a flood insurance claim.
You may also want to keep an eye on weather reports and stay up to date on potential flooding events. You can find flooding resources from the National Weather Service and flood maps and alerts from the National Flood Insurance Program.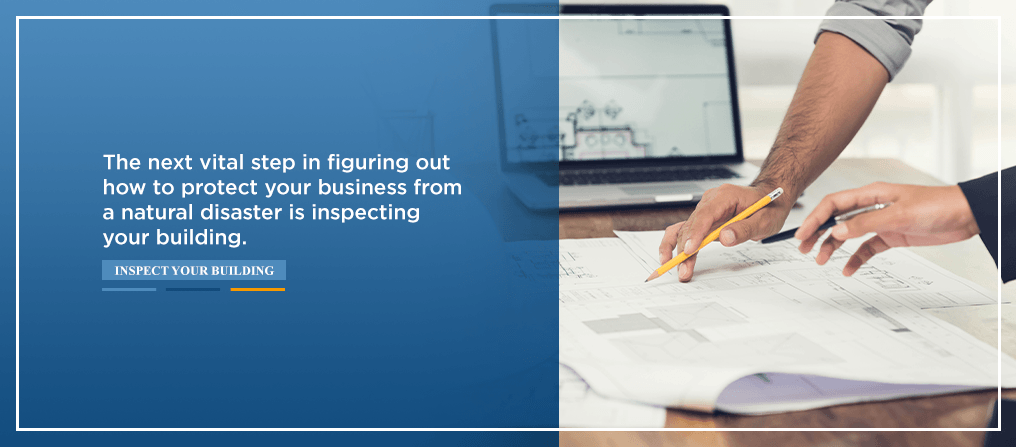 Inspect Your Building
The next vital step in figuring out how to protect your business from a natural disaster is inspecting your building. Lower levels of a building like a basement can be particularly vulnerable to flooding, as the water can flow into them and seep through the walls when the ground surrounding your property becomes saturated. If your building has a basement, the following measures can help reduce damage from a flood.
Extending downspouts
Sealing water entry points
Caulking cracks in the interior walls
Inspecting your basement for evidence of any water entry
Re-grading the landscape around your business, so water flows away from the building
Installing a drainage system and waterproof membrane around the foundation's perimeter
Applying waterproof sealant to cracks in the foundation, floor and framing joints
Moving valuable equipment, inventory and papers to a safer location like an attic or second floor
Installing a battery-powered sump pump that can prevent minor floods or seeping groundwater and can operate even during a power outage
These steps can also reduce the risk of environmental and health damage:
Install sewer backflow valves, as these can prevent a sewage backup in your building.
If your business gets its water from a well, seek advice from a licensed well-drilling contractor about preventing contamination.
Anchor fuel tanks, as unsecured tanks may float away and release fuel in a flood.
Among the challenges small businesses face, flooding is one of the most prevalent. When you take proactive measures and get flood insurance, you can mitigate flood damage and ensure that your small business prevails after a natural disaster.
Purchase Flood Protection for Businesses
While most people assume flooding occurs only in the summer due to rainstorms and hurricanes, flooding can occur at any time of the year. For example, seasonal fluctuations in February and March can cause problems. Inches or feet of snow, combined with the warmer temperatures and rain of early spring, can create the perfect combination that leads to significant flooding.
Water can inflict significant financial damage to your business and render a building unhabitable. As a small business owner, you need a flood insurance policy, as it can save you thousands of dollars in case of flooding. Understanding the terms and conditions of your insurance policy is central to successfully alleviating this risk. You'll need to buy flood coverage separately from a standard business insurance policy, as these policies don't cover flood damage or the loss of income that may result from a natural disaster.
Remember, there is typically a 30-day waiting period before a new policy becomes effective. If your business is in a lower-risk area for flooding, you may be eligible for a lower premium. Even if you do not believe your business is at risk of flooding, going without this essential coverage could leave your small business struggling if a natural disaster or storm does occur.