The Upside of Coverages
We treat your policy like it is ours: we find the most competitive program the market has to offer, and we won't stop working until you have the best coverage available. Our licensed personal lines agents take pride in explaining your policy thoroughly, answering your questions promptly and protecting the family and property you value. 
If you're looking for personal insurance anywhere in Central Pennsylvania, contact us. We are an insurance agency, not an insurance company. This means we build relationships with insurance carriers and bring you the best deals. It also means if you ever have to file a claim on your personal insurance, you can contact us and we will handle it, saving you the long and sometimes frustrating calls to large insurance companies.
No matter what you need covered, our personal insurance agents can help. We can explain your options and save you money on more robust coverage. We can find you the right deal on your insurance whether you need renters insurance, car insurance or a few options in one bundle.
"Our relationship with your firm and everyone at Gunn-Mowery makes it one of my favorite vendors to work with. From personal policies to my business policies, you guys make my insurance needs so simple...it's hard to believe I'm even insured! David Schlosberg is top level talent and one of, if not the best insurance reps I've ever had, in any business. I couldn't be happier to have you guys as a partner protecting the most important parts of our company and our people."

‐ Alex Bazdar, CEO
Download our Auto Accident Help App! It is FREE to download on iPhone or Android phones.
Some of the features of the app include: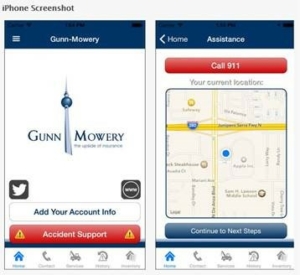 Automatically detects the accident date, time and location.

Helps you collect information from drivers, passengers & police.

Produces a detailed accident report with attached photos that you can email to any address.

Keeps track of your submitted claims and accident reports.

It also allows you to keep track of your home inventory for your homeowner's insurance policy.
Upside Blog
We, at Gunn-Mowery, know the language used by the insurance industry can be confusing. We want to make sure that you clearly understand your personal lines insurance program. Here are some terms we use for types of coverages. There are also a variety of other terms that might be unfamiliar to you. We hope this... Read More