Before the 1970s, many businesses were covered for pollution claims in standard business insurance. However, as a result of a rising number of claims, this type of coverage was eliminated from general policies and now needs to be purchased individually.
Many businesses are under-insured for this type of eventuality, and this mistake can cause them to go bankrupt in the event of a claim. The reality is that just about any type of business can be subject to a pollution claim.
The Importance of Pollution Liability Coverage for Your Business
The costs of a chemical spill or any leak of hazardous materials can be enormous for an organization, making pollution insurance mission-critical for most businesses. A pollution claim can result in expensive clean-up costs, as well as property or bodily damage. Your company should not have to cover the costs of cleaning or replacing damaged property or paying for medical tests and treatment if you have the right insurance.
Also, a pollution liability claim can easily result in litigation and investigation to determine who is responsible. The costs of legal teams and investigations can be significant, especially since these claims tend to involve multiple parties. The producer of the harmful pollutant, the owner, and tenant of the business property where the spill or exposure took place and other parties may all be considered when evaluating a claim.
Pollution liability coverage protects your business from these costs and allows you to keep your doors open so you can move forward.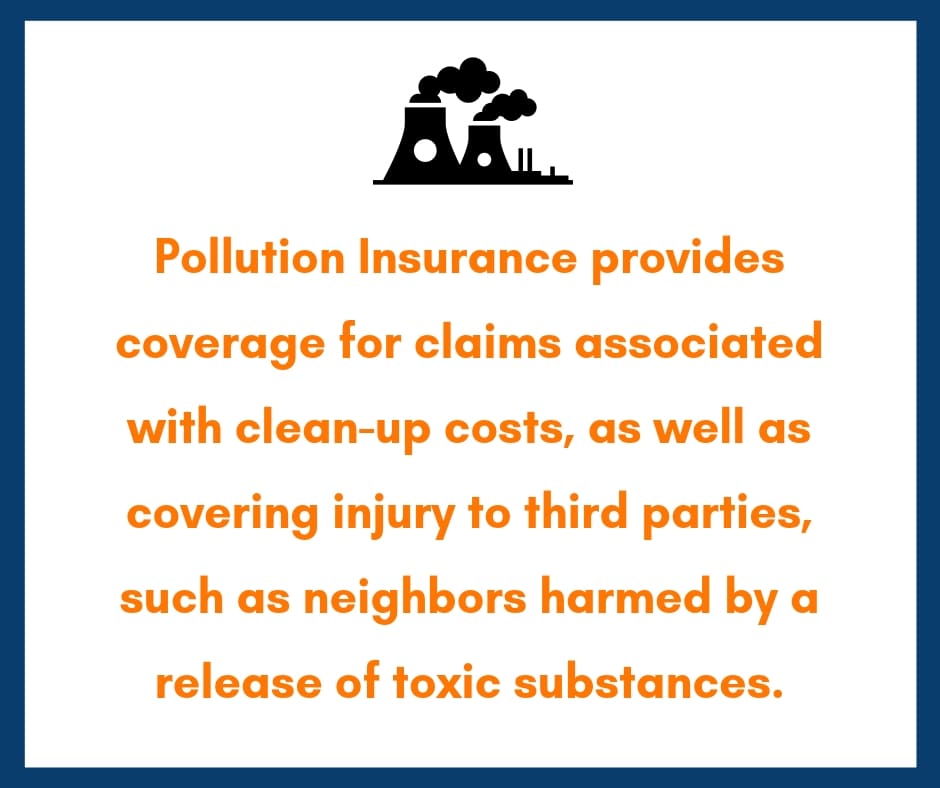 Pollution Liability Insurance for Contractors
Contractors' pollution liability insurance is important for many contractors, including construction workers, roofers, environmental remediation service providers, general contractors, trades professionals, artisans and specialty contractors.
The process of renovating, building, developing and working with property usually involves the use of harmful chemicals. Contractors may use tar, solvents, adhesives and other potentially hazardous materials. If these ever spill or cause property or personal injury, pollution liability coverage can offer both indemnity protection and defense of claims to contractors.
Securing Pollution Insurance for Your Company
The Upside to working with Gunn-Mowery is that we handle the details, leaving you free to focus on business. We can help you evaluate your pollution insurance needs and find budget-friendly solutions that offer you maximum protection. We work with a range of insurance companies, so we can bring you choices.
Gunn-Mowery can find you pollution insurance coverage that protects you in the event of a spill, catastrophe or claim. We will find you insurance that covers cleanup costs, legal defense costs and more. If you ever need to make a claim, we can save you the time you would need to spend on the phone with large insurance companies.